Vegetables Are About to Get Sexier Names . . . Because Then We'll Actually Eat Them
Soon you're not going to try to choke down a big bowl of broccoli or spinach . . . you're going to totally devour a pile of badass beer blazed broccoli and sexy smokin' spinach.  Or something.
According to a new study in the "Journal of American Medical Association Internal Medicine", people are MUCH more likely to eat vegetables if they're marketed as being cool, SEXY, and maybe a little unhealthy.  And not just kids, adults too.
The researchers found that when they packaged vegetables with names like "twisted citrus-glazed carrots," "dynamite chili and tangy lime-seasoned beets," and "sweet sizzlin' green beans," people were more likely to buy them and eat them.
We're less likely to buy or eat them if they're marketed as being healthy.  Like, when they offered people a choice between "lighter-choice zucchini" and "slow-roasted caramelized zucchini bites," it was VERY clear which one was more popular.
So you can probably expect to see more glazed and seasoned vegetables showing up at your grocery store with ridiculous names . . . and you can also expect yourself to be inexplicably drawn to them.
Ice Cream That Tastes Like Thanksgiving Foods, Including Mashed Potatoes and Stuffing, Just Went on Sale
  Like all Americans, ice cream is my favorite food and gravy is my second-favorite.  But that doesn't mean they need to be merged.
A gourmet ice cream company from Portland, Oregon called Salt & Straw just released five new THANKSGIVING ice cream flavors.  Check 'em out:
1.  Sweet potato casserole with maple pecans.
2.  Apple cranberry stuffing.
3.  Salted caramel Thanksgiving turkey, including bits of turkey skin mixed in.
4.  Spiced goat cheese and pumpkin pie.
5.  Buttered mashed potatoes and gravy.
And if those sound good to you, or at least intriguing to you, you can get all five pints delivered from SaltAndStraw.com . . . for $65.  That's $13 each.  Plus another $20 to $50 for shipping.  Worth it?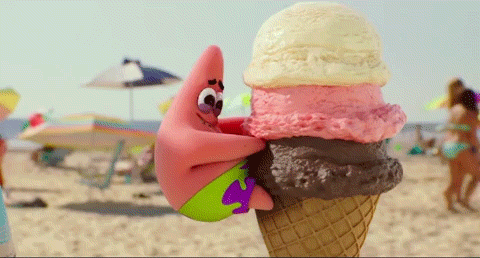 Did Taco Bell Just Reveal They're Introducing French Fries . . . Thanks to the Lead Singer of Blink-182?
Taco Bell used to have locations in Mexico.  And they basically ADMITTED they didn't serve Mexican food, their stuff is American food . . . so they had French fries on the menu.  They've never done that in the United States.
But we just found out that MIGHT be changing soon.  How do we know?  They might have admitted it to Mark Hoppus, the lead singer from Blink-182.
Earlier this week, Mark tweeted, quote, "Taco Bell is better than Del Taco, but Del Taco has French fries, so it's a real Sophie's Choice of fast food."
And Taco Bell apparently couldn't handle getting bad press from the winners of the Best New Group at the Blockbuster Entertainment Awards in the year 2000, so they tweeted back, quote, "That just might change soon, Mark."
That's all the info we've got, so we can't tell you when they might start selling fries . . . or how fries taste as a side dish to a chalupa.  Maybe we can get one of the guys from Sum 41 or Good Charlotte to taunt them into giving us more details.