Justin Bieber Threw a Tantrum & Walked Off Stage Because a Fan Spilled Something
Justin Bieber is unraveling again. Yesterday, he was getting ready for a TV performance in Norway, and when he went out to warm up the crowd, a fan spilled something on the stage. Justin scolded the fans for being out of control, and tried to mop up the mess. Then for some reason he snapped, and stormed off the stage saying, quote, "Guys, never mind, I'm done. I'm not doing the show." He apologized later on Instagram: Quote, "Sadly it's been a rough week for me, long days no sleep, while having to be 'on' as they would say for cameras and fans. In no way did I mean to come across mean. "I chose to end the show as the people in the front row would not listen . . . I don't always handle things the right way but I'm human and I'm working on getting better at responding not reacting . . . I'll be sure to make it up to you next time on tour." Earlier this week, Justin walked out during a Spanish radio interview. A few questions seemed to irritate him, and then they asked if he wanted to do a stunt to help them 'break the Internet.' He agreed, but when everybody got up, instead of walking with them, he went the other way, off the set. Get more here.
https://youtu.be/UQwEtnkJAnU
https://youtu.be/NZxA2Ha3BJk
Watch North West Tell the Paparazzi, "No Pictures."
This is pretty adorable, but at the same time it's a little sad. Kim Kardashian and Kanye West's daughter North isn't even two-and-a-half yet, and she already knows how to deal with the paparazzi. The vultures were scoped out to catch video of North being taken to ballet class by a nanny, and when she saw them she said, quote, "I said no pictures." She didn't even say it angrily. It sounded like she was just parroting something she's heard her parents and other adults in her life say over and over again in similar situations. Get more here.
Selena Gomez Returns to TV in Netflix's '13 Reasons Why'
The show, which will be executive produced by Selena, is based on the bestselling young adult book by Jay Asher. The series will be 13 episodes and it's about a high school student named Hannah Baker who commits suicide and leaves a box of cassette tapes to a classmate. It's a dark premise, and definitely not for the kids.  Selena will not be starring in the series, she'll be busy in her executive producer rold, but she may do a smaller supporting role. Looks like Selena is spreading her creative wings! Get more here.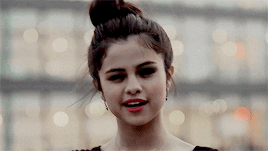 GIF SOURCE MAILA-HALE.TUMBLR.COM