Did Someone Cut the Cheese on DWTS Last Night?
Bindi Irwin and Derek Hough were the first to be declared safe during the elimination round Monday. And as Derek grabbed Bindi for a celebration hug,  a suspicious sound was heard over the mics, leading many to believe that someone let one rip. To be fair, Derek had lifted Bindi up in the air and squeezed by her pretty hard. No one has come forward to claim credit, but it's safe to say no matter who did it, it was Derek's fault! Get more here.

John Stewart is Coming Back to TV on HBO
John has signed a four-year production deal with HBO, it will be a short-form digital content showcased on HBO Now, HBO Go and other platforms. Also included in the pact is a first-look option for other film and TV ventures. New technology will allow Stewart to produce short-form digital content, which will be refreshed on HBO Now multiple times throughout the day. HBO programming president Michael Lombardo said "Jon Stewart led a revolution that changed the face of TV comedy on the Daily Show. He graced our network nearly 20 years ago, so we're thrilled to welcome back his immense talents in this next chapter of his career." Get more here.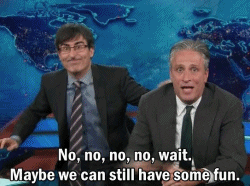 Bobbi Kristina's Hospice Nurse Wasn't Actually a Nurse
A woman in charge of caring for Bobbi Kristina Brown at the hospice where she died was impersonating a nurse and faces charges. Taiwo Sobamowo, 32, faces charges of fraud and nursing without a license. Investigators don't believe that Kristina's care wasn't affected by Taiwo Sobamowo.  Homestead Hospice CEO Mallie Sharafat said the company performed a background check and reviewed references from other health care agencies in the area. "We had no reason to believe that she was anything other than a good nurse with proper credentials." Get more here.
Lil Wayne's Mansion Raided by Police, Assets Seized
Lil Wayne's Miami Beach mansion was raided by police and his assets were seized. Apparently Lil Wayne is in legal battle with a private jet leasing company, Signature Group sued Lil Wayne for $2 million over missed payments. Lil Wayne didn't pay up, so they obtained a "break order" from the judge, allowing them to enter his property and seize his valuable assets. Helicopter footage from the scene captured authorities hauling items from Wayne's house into a truck, including what appeared to be wrapped artwork. Get more here.
WSVN-TV – 7NEWS Miami Ft. Lauderdale News, Weather, Deco
Why Michael Lohan & Kate Major Lost Custody of Their Children
According to TMZ, Florida Dept. of Children and Families sent social workers to Kate's apartment after a video surfaced of some sort of violent argument Michael and Kate were having in front of 2-year-old Landon and 10-month-old Logan. Michael's mother flew from Long Island immediately and the kids were taken to Michael's home Thursday under the guardianship of grandma. We're told Michael and Kate can both see the kids, but only in grandma's presence. Get more here.
SOURCE DRUNKONSTEPHEN.TUMBLR.COM
---
Subscribe to Mix 1051's Blog!
Get the latest updates on music and celebrity news, contests and flyaways, and more straight to your inbox with our weekly emails.