Katy Perry Tops a List of the Highest-Paid Women in Music
The unstoppable list-makers at Forbes.com have released their annual list of 'The Highest Paid Women in Music' and this year, Katy Perry is #1, raking in $135 million over the past year or so. Here's the Top 10, along with the money they made from things like: Album and merchandise sales, licensing, publishing royalties, endorsements, and touring.
1. Katy Perry, $135 million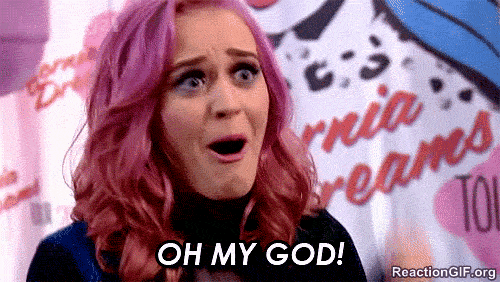 2. Taylor Swift, $80 million
3. Fleetwood Mac, $59.5 million . . . They're apparently eligible because the band includes "two high-profile ladies," but it seems strange to include them.
4. Lady Gaga, $59 million
5. Beyoncé, $54.5 million
6. Britney Spears, $31 million
7. A tie between Jennifer Lopez and Miranda Lambert, both with $28.5 million
9. Mariah Carey, $27 million
10. Rihanna, $26 million
Others who didn't make the Top 10, but still made eight figures are: Miley Cyrus, Nicki Minaj, Madonna, Kylie Minogue, Celine Dion, and Carrie Underwood. Get more here.
A Terminally-Ill "Star Wars" Fan Who Wanted to See the New Movie Got His Wish
A 32-year-old "Star Wars" fan named Daniel Fleetwood started a campaign to get an early screening of "The Force Awakens", because he has terminal cancer and was afraid he wouldn't make it to the official release date. His cause was even taken up by Mark Hamill, the guy who plays Chewbacca, and John Boyega, one of the stars of the new movie. And on Wednesday, Disney execs showed up at his house with a copy. Director J.J. Abrams even called Daniel before the movie. Security was pretty heavy. Disney brought their own equipment to play the movie on, and Daniel and his wife had to sign confidentiality agreements. Obviously, they can't give out any details, but Daniel's wife called it, quote, "an amazing experience!" She also posted her thanks on Facebook to everyone who made it happen. And Mark Hamill Tweeted, quote, "I just read this and am elated for Daniel and his family! Thanks to the powers-that-be for making his dream come true." Get more here.
Bindi Irwin Can't Get Her "Dancing with the Stars" Money Until She Proves Her Dad Is Dead
Bindi Irwin is doing very well on "Dancing with the Stars" and the longer you stay on the show, the more prize money you can earn. But she's only 17, so she needs her parents to sign off on her contract before it's considered valid. Her mother has already done that, but an L.A. Superior Court judge is refusing to let her collect any money until her dad signs off on it. Obviously, he's dead, so Bindi has to provide some kind of documentation to prove that. Clearly this is a technicality, since a five-second Google search would give you countless reports of Steve Irwin's death. Lawyers for "Dancing with the Stars" say they'll make sure things gets worked out and Bindi receives her money, which is actually quite a bit. TMZ says she's earned $230,000 so far. That includes a $125,000 guarantee up front, plus weekly bonuses are up to $105,000 so far. Still, it's pretty messed up that the courts would put her through that. Get more here.