Kylie Jenner Did a Photo Shoot in a Wheelchair
Kylie Jenner recently did a photo shoot for the magazine Interview. /in the photos the 18-year-old is dressed in black vinyl- dominatrix style, with a vacant doll like glossy eyed look. As if that wasn't controversial enough, in a few of the shots she's posing in a gold wheelchair. Disability advocates are understandably upset, there's nothing glamorous about disabilities. People with disabilities face an uphill battle when it comes to modeling, so seeing a perfectly healthy woman posing in a wheelchair is more than a little insulting. It's hard to believe that no one on that photo shoot had the sense to say "maybe this is a bad idea." Get more here. Check out some of the responses:
This right here is why I don't rate Kylie Jenner. A gold wheelchair? Disability isn't a glamorous fad. pic.twitter.com/5kpKgxdtPq

— zara (@zaraisfierce) December 1, 2015
So disabled models can't get work or advance in the fashion industry but Kylie jenner can use a wheelchair and be classed as edgy 👌

— Beth (@Bendy_Mermaid) December 1, 2015
Oh I see! When I'm in my wheelchair noone can look me in the eye but when Kylie Jenner sits in a wheelchair it's FASHION. silly me.

— Amelia (@amysgotmilk) December 1, 2015
Iggy Azalea Responds to Erykah Badu
Iggy Azalea was not happy that Erykah Badu dissed her at "The Soul Train Awards".
She ranted about it on Twitter:
We are days from 2016, but i came online today and saw its still cool to try and discredit my 2014 accomplishments. LOL, f$#*ing hell.

— IGGY AZALEA (@IGGYAZALEA) December 1, 2015

She also Tweeted that she doesn't know when her next album is coming out even though it's essentially done . . . that she loves Lady Gaga's holiday commercial with Tony Bennett . . . And that one of her horses has Lyme Disease . . . quote, "That, or he's just not doing with well in this climate. We are waiting on blood work." Get more here.
Lionel Richie Says He and Adele Will Probably Collaborate
Adele and Lionel Richie both have songs called "Hello" and a video mashup someone made a while back has racked up over six million views on YouTube.
And apparently, Lionel is hoping to parlay that into a collaboration with Adele in real life. He says, quote, "We are going to be doing something together, that's already almost in the works. "I can almost say that we're talking, but right now she has a mission . . . [to] get her record out and go on tour, so until she finishes that cycle, that won't happen just yet. She is committed to that." How can something be "already almost in the works" . . . and that he can only "almost" say that they're talking. Maybe they called each other, but the connection was bad, and they couldn't get past just saying "hello" over and over again. Lionel adds, quote, "If you say Adele and you say Lionel or Lionel and Adele . . . that's the best pairing you could have!" Get more here.
Courteney Cox Has Ended Her Engagement with the Guy from Snow Patrol
Courteney Cox and Johnny McDaid have ended their engagement. They dated for almost two years, and Johnny proposed in June of 2014, during a birthday party for Courteney's daughter Coco at Jennifer Aniston's house. A source says they couldn't make it work because Courteney likes to go out with friends, and he's more low-key and private. He reportedly moved out before Thanksgiving. They were last seen together in public in August. Courteney is 51 and Johnny is 39. He plays guitar for Snow Patrol. Get more here.
Did Kanye West Pay to Stop the Leak of a Naughty Tape with a Kim K Look-Alike?
Kanye West has made no secret of the fact that he was in lust with Kim Kardashian long before he got to hit that. But there's one piece of evidence he didn't want us to see. Radar Online says that before they hooked up, Kanye made a video of himself getting it on with an 18-year-old Kim Kardashian look-alike. Somehow, the tape was about to get out, and Kanye had to pay big money to stop it from happening. A source says, quote, "The sex tape was shopped and there was a lot of interest . . . He would have done anything to make sure it stayed private." Get more here.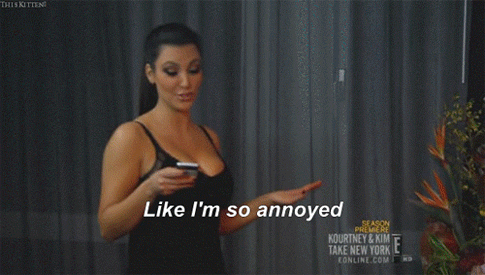 SOURCE BESTGIFREACTION.TUMBLR.COM