Justin Bieber Forgot the Words to His Own Christmas Song, So He Swore
Justin Bieber forgot the words to his own Christmas song, "Christmas Eve", during a show in Toronto the other night. So he resorted to profanity. He wasn't throwing one of his usual tantrums, though. It was actually funny. He laughed and said, quote, "What the [eff] are the words? You know what, I'll go to the second verse." He was streaming the show live on his website. Here's the uncensored video. Get more here.
Boy said "what the f*** are the words?" While singin a Christmas song to a bunch of white people… Bieber a savage pic.twitter.com/AQnNSPFQLr

— ⠀ (@_ASAPLAME) December 9, 2015
Speaking of Justin…
Cops Called to Justin Bieber's Hotel Room
Cops called to Justin's hotel room, after he invited some girls to his room following his performance at the Capital Jingle Bell Ball. A source told The Sun, "After fooling around in his hotel room one of the girls had an almighty meltdown. She stormed down to reception in no shoes and made a scene. She was saying, 'Where's my friend? I'll call the police.'" Officers arrived and found the girl was just fine, and since no crimes were committed, so they left. Get more here.
The Weeknd Is Being Sued
The Weeknd has been hit with a lawsuit over "The Hills". He and his producers allegedly sampled the score of the 2013 sci-fi movie "The Machine" without permission. The guy who did the score says he got a text message from the producer saying, quote, "I sampled your music, might make it to The Weeknd's next album. Huge fan of what you did for the 'Machine' movie!" This was sent in March of this year. The album came out in May. Get more here.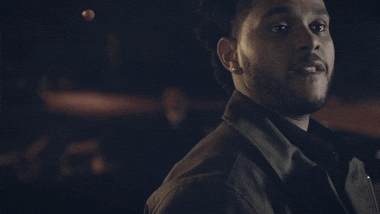 Darth Vader Sings a Parody of Adele's "Hello" to Luke Skywalker
There have already been a million parodies of Adele's "Hello", but this one is pretty great/stupid. It's Darth Vader singing to Luke Skywalker, and asking him to see "The Force Awakens". He also changes the lyric "Hello from the outside" to "Hello from the Dark Side."
Get more here.
The Cast of "MADtv" Is Reuniting for an Anniversary Special
The CW is putting together a "MADtv" 20th anniversary reunion special, and a lot of the former stars will be returning. So far, they've announced: Ike Barinholtz, Alex Borstein, Mo Collins, Crista Flanagan, Anjelah Johnson, Nicole Randall Johnson, Keegan-Michael Key, Phil LaMarr, Artie Lange, Bobby Lee, Michael McDonald, Arden Myrin, Nicole Parker, Eric Price, Will Sasso, Aries Spears, Nicole Sullivan, Stephnie Weir, and Debra Wilson. There's still no word on Jordan Peele. The special will air on Tuesday, January 12th. The show aired on Fox for 14 seasons, from 1995 to 2009. Get more here.
---
Subscribe to Mix 1051's Blog!
Get the latest updates on music and celebrity news, contests and flyaways, and more straight to your inbox with our weekly emails.