The 'Rude' Amy Schumer Fan Strikes Back
Amy Schumer almost gave up taking pictures with fans because of one pushy guy in Greenville, South Carolina. Amy posted a picture of the man on Instagram, and explained what happened.

But she dialed it back after getting support from her fans:
Thanks for the kind words and support. I know there are bigger problems in the world. But this was not right pic.twitter.com/8fqoIm7sHC

— Amy Schumer (@amyschumer) April 30, 2016
Now the man is fighting back, saying he did nothing wrong and claiming to have received death threats.  He posted a 9 second clip of the encounter, claiming that's all that happened, Amy says the footage is heavily edited.

He claims that Amy has turned her fans into 'violent thugs' and he wants her to 'call them off.'  Get more here.
Kate Upton and Justin Verlander are Engaged
This is a bad day. Kate Upton is off the market. She showed off her engagement ring on the red carpet of the Met Gala last night. The lucky guy is Detroit Tigers pitcher Justin Verlander. They've been together three years, and he locked it down just before the baseball season started. Kate told reporters, quote, "We've been keeping it on the down low for quite a while. So I'm excited to finally be able to share it with the world!" She's 23, he's 33. Get more here.
Kate Upton shows off her stunning engagement ring at the 2016 #MetGala: https://t.co/BS7g8m4t9u pic.twitter.com/W95d3h4DYT


— E! News (@enews) May 2, 2016
Sinead O'Connor Says Arsenio Hall Was Prince's Drug Dealer
Sinead O'Connor has a big lead for the investigators looking into Prince's death. She says they should hit up his sort of famous drug dealer. In a Facebook post, she said, quote, "Two words for the DEA investigating where Prince got his drugs over the decades: Arsenio Hall. "Anyone imagining Prince was not a longtime hard drug user is living in cloud cuckoo land. Arsenio, I've reported you to the Carver County sheriff's office. Expect their call. They are aware you spiked me years ago at Eddie Murphy's house. You best get tidying your man cave." Arsenio's rep responded a few hours later, quote, "The statement regarding Arsenio Hall is absolutely false, ridiculous and absurd." Eddie hasn't commented. Now, Sinead isn't the most reliable source on anything, but when it comes to providing an interesting rant on Facebook, Sinead, nothing compares 2 u.
Coincidentally, Arsenio talked to "Access Hollywood" just before Sinead's Facebook rant, and he talked about how Prince dealt with hip pain. Get more here.

Kevin Hart Took An Onstage Tumble
Kevin Hart played the last show of his standup tour in Hawaii Saturday night, and he ended it with a bang, by eating wood. Kevin was exiting the stage when he went straight down on his back. WARNING!!! The video contains profanity.
Kevin said later that he was tripped up by an open panel on the stage. Get more here.
The Edge Became the First Rock Musician to Play in the Sistine Chapel
The Edge from U2 recently became the first rock musician to perform at the Sistine Chapel. It was part of a conference on finding a cure for cancer. It was an acoustic set, and he was accompanied by an Irish choir. He did the U2 songs "Yahweh", "Ordinary Love", and "Walk On", as well as a cover of "If It Be Your Will" by Leonard Cohen. Bono was not there. The Edge said, quote, "When they asked me if I wanted to become the first contemporary artist to play in the Sistine Chapel, I didn't know what to say because usually there's this other guy who sings." Get more here.
"Space Jam 2" with LeBron James is Happening
It's not a rumor anymore: "Space Jam 2" with LeBron James is happening. There's no word when it'll hit theaters, but it's going to be directed by Justin Lin, who did three of the "Fast and Furious" movies and the upcoming "Star Trek Beyond". It's hard to believe, but the original "Space Jam" is 20 years old. It was released in 1996, and had Michael Jordan teaming up with Bugs Bunny and the other Looney Tunes to take on a team of aliens on the basketball court. LeBron made his movie debut in "Trainwreck" last year, playing himself. He's also played himself on episodes of "Entourage", "SpongeBob SquarePants", and "Teen Titans Go!" Get more here.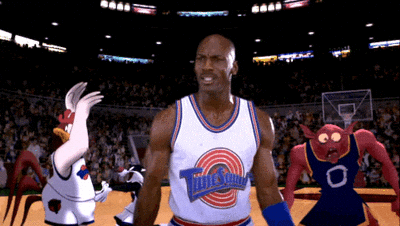 SOURCE WWW.REDDIT.COM