Are Rob Kardashian and Blac Chyna Having Twins?
The "news" broke on the not-so-reputable website Life&Style Weekly. The magazine claims that a source has let the cat out of the bag, saying: "[Chyna] knew almost immediately that this pregnancy was different because of how fast her body was expanding and changing" They even claim that the couple has already chosen names, and they won't be anything starting with a K. Wheather this is true or not, we won't know until Rob & Chyna confirm or deny it. Chyna is due November 11. Get more here.
A photo posted by Blac Chyna (@blacchyna) on
Ariana Grande Will Be in Hairspray Live on NBC
Ariana Grande made the announcement on twitter yesterday, that she'll be joining the Hairspray Live cast, as Penny Pingleton.
Penny has been a dream role since Hairspray opened on Broadway. At 9, I was (and still am) in LOVE w @KerryButlerNyc. hope to make u proud

— Ariana Grande (@ArianaGrande) July 7, 2016

Robert Greenblatt from NBC had this to say: "We're absolutely thrilled to round out our all-star 'Hairspray Live!' cast with Ariana Grande, one of the biggest recording artists in the world. She's also a Broadway baby at heart, having debuted on Broadway when she was 15, and will be fantastic in the delightful role of Penny Pingleton. We look forward to her millions of fans seeing yet another side to this multifaceted performer and we welcome her to this incredible ensemble of artists." Get more here.
Mr. Sulu is Revealed to Be Gay in the New "Star Trek" But George Takei Hates It
"Star Trek" has its first official LGBT character, and it's one we've known and loved for 50 years. It's Mr. Sulu. In the upcoming movie "Star Trek Beyond", we find out that Sulu is in a same-sex relationship, and he and his partner have a daughter. It's a pretty obvious nod to George Takei, the original Mr. Sulu, who's gay in real life. John Cho plays the character now, and he said, quote, "I liked the approach, which was not to make a big thing out [of] it, which is where I hope we are going as a species, to not politicize one's personal orientations." But here's the kicker: George is not in favor of this . . . because Sulu was never meant to be gay. And if "Star Trek" creator Gene Roddenberry didn't write Sulu gay, then he shouldn't be gay. He told the "Hollywood Reporter", quote, "I'm delighted that there's a gay character. Unfortunately, it's a twisting of Gene's creation, to which he put in so much thought. I think it's really unfortunate." Sulu's daughter Demora appeared in the 1994 movie "Star Trek Generations", but as far as anyone knows, she wasn't intended to have two daddies at the time. "Star Trek Beyond" will open on July 22nd. Get more here.
Sigourney Weaver Says the New "Alien" Movie Will Ignore the Third and Fourth Ones
Sigourney Weaver is doing a fifth "Alien" movie with director Neill Blomkamp, who did "District 9" and "Elysium". Although it'll seem like the third movie, because it's ignoring the last two movies. She said, quote, "It's just as if, you know, the path forks and one direction goes off to three and four and another direction goes off to Neill's movie." That sounds like we'll see the return of Newt and Hicks, who were both alive at the end of the second movie, "Aliens", but killed off during the opening of "Alien 3". And a photo the director posted a few months ago also seems to confirm that. Get more here.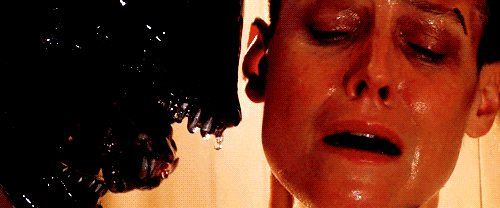 Jaden Smith Wears Skirts So That Your Son Can in Five Years and Not Get Bullied
Jaden Smith turns 18 today. So he's officially a man now. But he doesn't limit himself when it comes to clothing. He's big into fashion, and has been wearing skirts for a while now,it's just his 'thing,' I guess. Anyway, in a new interview with "Nylon" Jaden says he's wearing skirts now, so your son won't get bullied when he wears them to school five years from now. Which is definitely doing your kid a huge solid.  He says, quote, "You just have to believe in yourself. The world is going to keep bashing me for whatever I do, and I'm going to keep not caring. I'm going to keep doing the same things . . . I'm going to keep doing more things. I'm going to take most of the blows . . . so in five years when a kid goes to school wearing a skirt, he won't get beat up and kids won't get mad at him. I'm taking the brunt of it so that later on, my kids and the next generations of kids will all think that certain things are normal that weren't expected before my time." Get more here.
SOURCE MRCHRISTIANBALE.TUMBLR.COM
---
Subscribe to Mix 1051's Blog!
Get the latest updates on music and celebrity news, contests and flyaways, and more straight to your inbox with our weekly emails.