The Annual List of Words That Should Be Banned Includes "Unpack," "Nothingburger," and "Fake News"
Lake Superior State University in northern Michigan puts out a list at the beginning of each year of words and phrases they wish people would stop using.
This is the 43rd year they've done it.  Here are the five most annoying words and phrases they say we should leave behind in 2017 . . .
1.  "Unpack."  It means you want to analyze a complex topic or statement.  Politicians and pundits use it a lot.
2.  "Tons."  They say it's overused, and they wish people would just say "lots."
3.  "Nothingburger."  They basically think it's just a stupid, unnecessary word.
4.  "Fake News."  They don't like that people use it for any story they disagree with now.
5.  "Gig economy."  Which describes the trend of people working odd jobs instead of having a normal 9-to-5.
A few more that made the list this year are "dish" when you mean gossip . . . "pre-owned" when you mean used . . . "onboarding" and "offboarding" instead of hiring and firing . . . the phrase "let that sink in" . . . and President Trump's Twitter typo from back in May, "covfefe."
(LSSU.edu) 
Cops Arrest a Nigerian Prince Email Scammer . . . Who Turns Out to Be a 67-Year-Old White Guy in Louisiana
One of the most famous email scams is the one where you get an email from a Nigerian prince who promises to send you millions of dollars if you just give him a few thousand to cover the cost of the transfer.
Well . . . a guy running one of those scams was just arrested.  And he's not EXACTLY what you'd picture when you think of a Nigerian prince.
No . . . he's a 67-year-old white guy from Slidell, Louisiana named Michael Neu.
He was just arrested after an 18-month investigation on 269 counts of wire fraud and one count of money laundering.
Apparently he was working as the middleman for people in Nigeria . . . he'd collect the money, then send it along to them.  There's no word on whether the authorities are working on tracking them down.
Florida State Park Wants To Hook Some New Mermaids
The first rule: Don't make waves.
The Weeki Wachee Springs State Park is holding auditions on Jan. 13 for people with the will, desire and lungs to work as professional mermaids.
The current mermaid menagerie is 17 mermaids and three princes who perform two shows a day, 365 days a year.
Park spokesman John Athanason expects at least 50 women will show up for the first part of the audition. It's so grueling that he predicts a lot of them will wash out quickly.
"It's an inherently dangerous job, and you need to be able to not only save yourself, but save a colleague," Athanason told the Tampa Bay Times.
Then there's another audition in which the aspiring mer-people must show they can do water ballet moves, like flips, without looking "panicky."
"It's all about how comfortable they are," Athanason said. "We encourage everyone, from every background."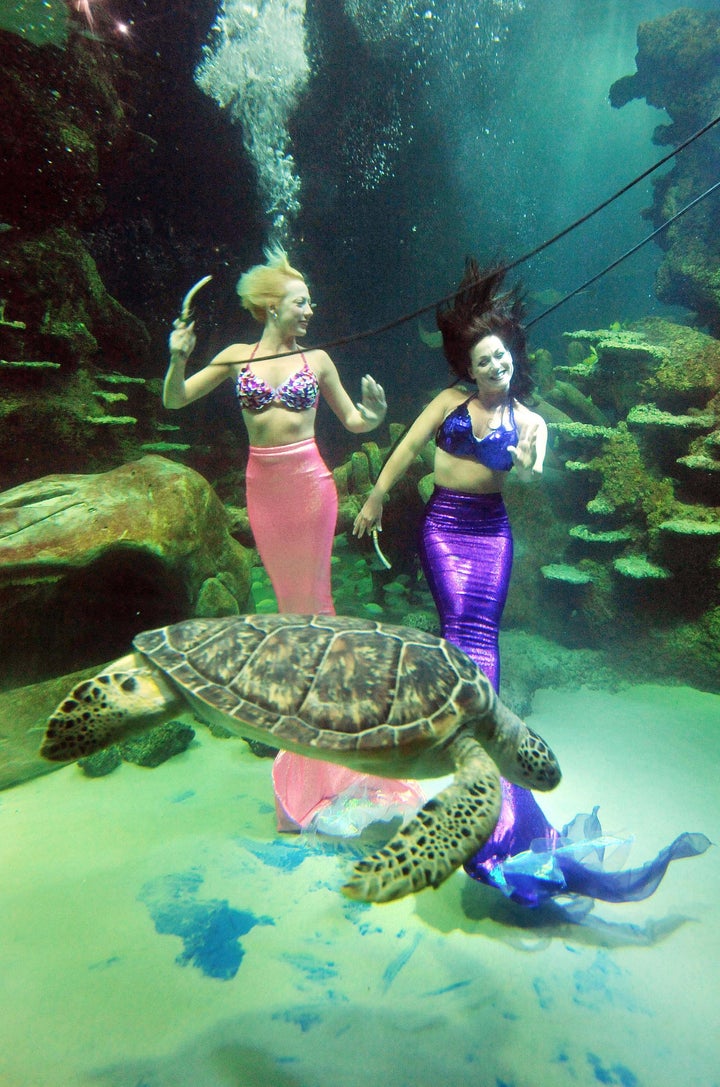 Applicants must be at least 18 and available to work at least four days a week.