I had this conversation with my wife and I had to do something to help out!
What do you get a man for Christmas? Every time you ask we simply say, "I don't know" or a very callus "Whatever" and it leaves you with no clues.
So here is a short list of things you can get for a man who has everything, or wont tell you anything!
So here are 5 things that are always going to get a good reaction when the gift wrap gets torn away.
1. Crossbow:
Nothing says I love you quite like weapons. Its not a gun so its not as scary. Daryl from The Walking Dead uses one so you get instant badass credibility. If you get in a fight he can go down to the basement and shoot stuff without really doing a ton of damage you have to pay for later and still get all his aggression out. Here's fantastic option from Cabela's.
2. Nerf gun: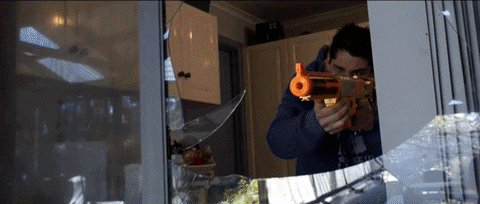 Men are all really just overgrown children. If it involves projectiles of any sort we are going to love it. Big or small a Nerf gun is a no brainer when it comes to finding that difficult dude something to unwrap under the tree. This one's is loaded for Zombie!
3. A Flying F#%K:

This is great because its profane and it can fly; 2 things all guys like. For hours he will sit in awe as the most used word in the average male vocabulary goes soaring around your family room. Then you can watch him pout as the batteries recharge so he can go flying again! Get it here.
4. A skull!

Yep it does nothing. But when he takes it to the office and sits it on his desk he will instantly be the envy of all the other peasants in surrounding cubicles. Nothing asserts your dominance as an alpha male like casually having a skull hanging around. This one has the bonus of being pretty.
5. A GIANT ROBOT!

If money is no option and you really need to say I LOVE YOU then what better gift than a giant robot. Imagine the jealous looks from neighbors as he opens the garage. The joy on his face as he climbs aboard for the commute to work. The total destruction of all that stand in your way to total world domina…wait, too far? Okay but what is cooler than your own personal robot to cruise the kids down to soccer practice!!! This one might be out of your price range, starting at 1.5 million dollars.
Every one of these gifts is a well thought out personal reflection of your love for the man in your life. Take your pick. Get one this year and another the next. No of them will disappoint, I promise!!!
SOURCE WWW.REDDIT.COM
SOURCE FOOTBALLANDHIPHOP.TUMBLR.COM
SOURCE STAYSTRONGANDBEFEARLES.TUMBLR.COM
SOURCE WWW.UPROXX.COM