Khloe and Lamar Have Called Off Their Divorce
Khloe Kardashian and Lamar Odom have called off their divorce. At least for now. A source says, quote, "This is a very delicate and difficult time for both Lamar and Khloe, and the most sensible thing to do at such a time is not make any big moves and put everything on hold. So that's what she is doing." While they had both signed the papers before Lamar's little "adventure", a judge hadn't made it official yet. So yesterday, Khloe's lawyer went to court to withdraw the papers. We guess that makes James Harden Khloe's ex-boyfriend. Get more here.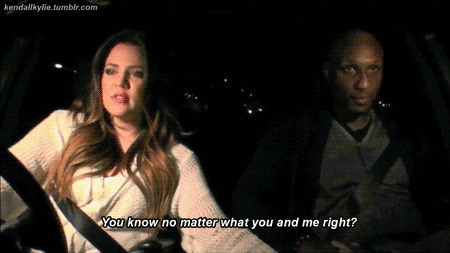 Michael J. Fox and Christopher Lloyd Make a Surprise Appearance on "Jimmy Kimmel Live"
Michael J. Fox and Christopher Lloyd showed up as Marty McFly and Doc on "Jimmy Kimmel Live" last night. They rolled up in a DeLorean in the middle of Jimmy's monologue, right when he was talking about "Back to the Future" Day. So they talked about what year it was, and Jimmy had to set them straight about the things the movie got wrong. Get more here.
Sesame Street Introduced a New Autistic Character
Yesterday Sesame Street launched Sesame Street and Autism: See Amazing in All Children. The initiative aims to reduce "the stigma of autism" with the introduction of the first muppet with autism. Her name is Julia, and she's Autistic. They even put together a free app designed to make daily life tasks easier for families of children with autism. Children with autism are five times more likely to get bullied. Sesame Street is stepping up in an attempt to show kids what they have in common, not their differences. They even wrote an adorable song about it. Get more here.
Laverne Cox to Play Dr. Frank-N-Furter in the "Rocky Horror" Remake
Laverne Cox from "Orange is the New Black" will play Dr. Frank-N-Furter in Fox's remake of "The Rocky Horror Picture Show". Tim Curry played the doctor in the original 1975 movie. The casting is interesting in terms of gender. Frank-N-Furter is a male transvestite, who describes himself as a "Sweet transvestite from transsexual Transylvania. Laverne is a female transsexual who was born male. The remake will be a two hour special TV event, and will air next fall. Get more here.

Chris Rock Will Host the 2016 Oscars
It's official: Chris Rock will host the 2016 Oscars. He did it once before, in 2005. That doesn't make him special or anything. 21 other people have hosted the Oscars two or more times. Bob Hope holds the record, with 19, followed by Billy Crystal with 9, and Johnny Carson with 5. The "88th Annual Academy Awards" go down on February 28th. Get more here.
Lark Voorhies Has Filed for Divorce
Lark Voorhies, best known for her role as Lisa Turtle, from Saved By The Bell, is getting divorced. It was a strange relationship to begin with, her husband Jimmy Green has a long criminal record, and Larks's mother openly opposed the coupling. They married last April in a Vegas ceremony, in plain clothes with no guests. Her family has been begging her to leave him ever since. Lark is asking the court to dismiss any chance of her paying spousal support to Jimmy. Jimmy told TMZ the marriage was a nightmare and sighted Lark's mom as a big part of the problem. Get more here.
gif source SARACORNELIA.TUMBLR.COM 
gif source PEREZHILTON.TUMBLR.COM