Merriam-Webster Adds "Froyo," "Troll," and More to the Dictionary
Merriam-Webster just announced a bunch of new words that they've added to their dictionary, which basically legitimizes them . . . for better or worse.  Here are some of the highlights . . .
1.  Pregame . . . "to begin drinking alcohol before an event or activity, such as a party or a night out."
2.  Froyo . . . "frozen yogurt."
3.  Sriracha . . . "a pungent sauce that is made from hot peppers pureed with usually garlic, sugar, salt, and vinegar, and that is typically used as a condiment."
4.  Front . . . "to assume a fake or false personality to conceal one's true identity and character."
5.  Schneid . . . "a slang term for a losing streak, as in sports."
6.  Troll . . . "to harass, criticize, or antagonize someone, especially by provocatively disparaging or mocking public statements, postings, or acts."
Some of the other words they added are open carry and concealed carry . . . alt-right and dog whistle . . . hive mind . . . ransomware and malware . . . and Internet of Things.
A Dad Tries to Discipline His Kid by Dressing as a Clown and Chasing Her . . . Then a Scared Neighbor Shoots at Him
I'm thinking this method of discipline isn't in ANY parenting books.
A 25-year-old guy named Vernon Barrett Junior from Boardman, Ohio was having trouble with his six-year-old daughter . . . he says she's been having behavior problems at school and at home.  So he decided to try to scare her straight on Saturday.
How?  By dressing up as a SCARY CLOWN and chasing her down the street.
But she had no idea it was him.  So as she ran down the street screaming, she ran into a random neighbor's apartment and begged for help because a clown was chasing her.
That neighbor is named Dion Santiago.  He'd had a few beers and HE was scared of the clown outside too . . . so he grabbed his GUN and fired a few shots at him.  Fortunately they missed.
The cops eventually came and sorted everything out.  Vernon was charged with child endangerment and inducing panic . . . and Dion was arrested for using weapons while intoxicated.  They're both due in court today.
5 movies and television shows being filmed in Utah right now
SALT LAKE CITY — Beautiful is probably the most common adjective used to describe the state of Utah.

When a Utah resident tells a stranger they're from the Beehive State, said stranger usually replies, "Oh, I hear it's beautiful there." When someone asks that same Utah resident about their homeland, the local autopilot response is usually something like, "Well, it's beautiful."

These kinds of conversations happen all the time because, as it turns out, Utah is beautiful. But Utah is actually more than that. Utah is weird – in a good way.

From the San Rafael Swell to the Bonneville Salt Flats to Fantasy Canyon, Pando the Trembling Giant and the splendor that is Monument Valley, Utah is, as Ulysses Everett McGill says in "O Brother, Where Art Thou? " "a geographical oddity."

This is why filmmakers from around the world send location scouts to Utah when they're looking for something different. When Gore Verbinski needs a place that looks like Davy Jones' Locker, or Robert Zemeckis is sending Marty McFly back to the wild west, storytellers know those obscure places they see in their mind's eye may just be hiding somewhere in Utah's landscape.

So, this got us wondering – what stories are being told here now?

Thanks to the always wonderful people at the Utah Film Commission, this was a question we knew could be answered quickly. We'll be reporting more on the great things the Utah Film Commission is up to in a soon-coming article, but for now, here's what they had to say about five film and television projects currently being shot in the state of Utah.

The anticipated TV series, "Yellowstone," is now shooting in Utah, having been approved for a state film incentive this summer. Oscar-nominated filmmaker Taylor Sheridan, known for "Hell or High Water," "Sicario" and the recent made-in-Utah "Wind River," returns to Utah to direct the show. The series follows the Dutton family, controllers of the largest contiguous ranch in the country, which finds its borders under threat. Luke Grimes, Kelly Reilly and Cole Hauser will star alongside lead actor Kevin Costner.

Sheridan, winner of this year's Festival de Cannes 'Best Director' award for "Wind River," has cited Utah's breathtaking scenery, accessibility, and reliable crew as just some of the reasons he chose to return to Utah. The show is expected to generate an economic impact of over $28 million and employ over 300 local cast and crew.

Disney Channel's "Andi Mack" is currently filming its second season in Salt Lake City. The hit series follows the life of Andi (Peyton Elizabeth Lee) and her family and friends as she navigates the tricky terrain of early teen years. The show's popularity to date is clear, with season one nearing 40 million views on seven digital platforms. All principal photography will take place this fall, with the production employing over 200 Utah cast and crew and spending approximately $15 million in the state.

Michelle Manning, executive producer of Disney Channel's "Andi Mack," said, "I have shot all over the world, but Utah is now my favorite place to film. This show has a special place in my heart and in season one, the cast and crew bond was like nothing I have ever experienced. It's been a case of home away from home for us, and we're eager to begin filming season two in and around Salt Lake City."

After a successful first season (including 22 Emmy nominations), HBO's hit western-sci-fi series, "Westworld," returns to Utah this fall to shoot its second season, set to air in 2018. With an all-star cast and breathtaking southern Utah backdrop, "Westworld" garnered an average of 12 million viewers across all platforms and now ranks as the network's most-watched first season ever.

The show's iconic western setting has received much praise, and Jonathan Nolan, the show's co-creator and executive producer, has spoken about being "drawn back" to southern Utah because of its "landscapes that don't look like anywhere else on the face of the planet".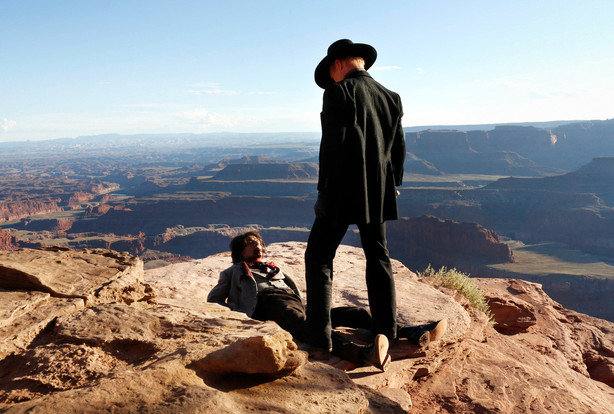 Louisa May Alcott's much loved, coming-of-age tale of sisterhood is being reimagined, with production taking place here in Utah. The independent feature is due for release in 2018 to mark the 150th anniversary of the book's publication.
Clare Niederpruem, who acted in the Utah-made film, "Once I Was a Beehive," makes her directorial debut with this modern version of "Little Women." Niederpruem also co-wrote the script with Kristi Shimek, who was editor on "Once I Was a Beehive", among other films. The lovable Lea Thompson plays the family matriarch, Marmie, while "High School Musical's" Lucas Grabeel returned to Utah to play Laurie. This is set to be the latest movie rendition of the classic story, which means a new set of March sisters to fall in love with.
Horror movie "Behind You" is now shooting in Utah County. The homegrown production received a state film incentive under the Community Film Incentive Program, a fund established to encourage up-and-coming, Utah-based talent to keep film projects in the state.
Co-written and co-directed by Andrew Mecham, producer of "Mythica: The Necromancer," and YouTube Red Original, "A Trip to Unicorn Island," as well as Matthew Whedon, brother of popular writer/director Joss Whedon. The feature tells the story of two sisters who find themselves in the home of their estranged Aunt and soon discover a dark presence who plans to use the girls to advance its evil purpose.
"We believe strongly in supporting and keeping film jobs in Utah. The majority of our team is local, including 100 percent of our crew. Although this film falls in the horror genre, it is projected to be PG-13, with a positive, uplifting message that love is more powerful than fear," Mecham said.
https://www.youtube.com/watch?v=-qwr2APtzBg