Chrissy Teigen and John Legend are Expecting
Chrissy Teigen and John Legend are expecting their first child. Chrissy announced it on Instagram, saying, quote, "As many of you know, we've been trying to have a baby for a while now. "It hasn't been easy, but we kept trying because we can't wait to bring our first child into the world and grow our family. We're so excited that it's finally happening. Thank you for all your love and well wishes. I look forward to all the belly touching!" Get more here.
Did Taylor Swift Dump Calvin Harris Because of a Massage?
About a month ago, Radar Online "reported" that Taylor Swift's boyfriend Calvin Harris was spotted leaving a seedy massage parlor. And now, they claim that Taylor dumped him because of it. Calvin is worth more than $110 million, and has a massage therapist on staff. But there are pictures of him leaving a Thai massage parlor that offers services for as little as $40. So that's got some people whispering that one of those services might have been a happy ending. Supposedly, Taylor confronted Calvin about the pictures and he told her his massage therapist was sick, and he really needed his shoulder worked on. The rumor is that she didn't believe him, so she gave him the boot. We haven't heard from Taylor yet, but Calvin Tweeted, quote, "It's not going to be a 'happy ending' for everyone I sue for defamation of character for all these [B.S.] stories. Bye bye." Girl Squad member Selena Gomez was asked about this chaos yesterday and she said, quote, "I think I would have found that out. Is that a rumor?" Get more here.
It's not going to be a 'happy ending' for everyone I sue for defamation of character for all these bullshit stories bye bye — Calvin Harris (@CalvinHarris) October 12, 2015
There's Now a Will Ferrell-Themed Bar in New York City
There's a new bar in New York City called Stay Classy New York, and it's based on Will Ferrell's movie characters. The name itself is based on "Anchorman" Ron Burgundy's catchphrase, "You stay classy, San Diego". The drink list is amazing, and it doesn't even matter if the cocktails are any good. The names are all quotes from Will's movies. They include: From "Old School" there's: You're My Boy Blue! and We're Going Streaking!. From "Step Brothers" there's: Did We Just Become Best Friends? and The [Effing] Catalina Wine Mixer. And from "Anchorman" there's: Milk Was a Bad Choice, Great Odin's Raven, and, of course, the Smelly Pirate Hooker. There's also Will Ferrell artwork on the walls, and the bathrooms are labeled F-Shack 1 and F-Shack 2. One of the owners says, quote, "Will Ferrell movies are our favorite. We love the man and his work. So it was easy for us to create this landscape of ridiculous things and theme it accordingly." Get more here.
Sean Astin Completed the Ironman World Championship, Fans Chant "Rudy! Rudy! Rudy!"
Sean Astin isn't a rolly polly hobbit anymore! He's been training for this Ironman for months! Sean is 44, and had no problems finishing the 2.4-mile swim, 112-mile bicycle ride and 26.2-mile marathon. "It's official, I am an Ironman. It was a magical day," he tweeted. As he crossed the finish line fans greeted him and chanted "Rudy! Rudy! Rudy!" His wife Christine and daughters were also there to greet him. He raised over $25,000 for his charity #Run3rd, which supports running programs for under served kids. Congrats Sean! Get more here.
It's official, I am an Ironman. It was a magical day. Swim 1:45:00 bike 7:11:56 run 6:06:22 hours Finish: 15:30:31! pic.twitter.com/xMmsHxv3Ns

— Sean Astin (@SeanAstin) October 11, 2015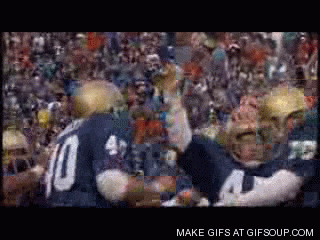 ---
Subscribe to Mix 1051's Blog!
Get the latest updates on music and celebrity news, contests and flyaways, and more straight to your inbox with our weekly emails.