Kylie Minogue is Not Happy with Kylie Jenner
Kylie Jenner has been attempting to trademark the name "Kylie"  for "advertising services, promoting the brands, goods and services of others; endorsement services promoting the goods and services of others." The only problem is, she's not the first famous Kylie. Australian actress and singer, Kylie Minogue is, and she's having none of it. Minogue has filed a Notice of Opposition, claiming that Jenner's trademark would dilute her own brand. Saying she"known worldwide simply as 'Kylie,'" and even registered the domain www.kylie.com in 1996.
Hello….. My name is KYLIE #lightyears

— kylie minogue (@kylieminogue) February 28, 2016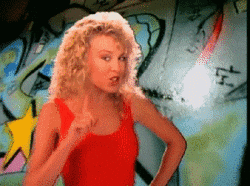 Cheryl Tiegs Apologizes for Criticizing Ashley Graham
Cheryl Tiegs got her name back in the news for the first time since leg warmers by criticizing size 16 "Sports Illustrated" model Ashley Graham. She said she thought it was wrong to glamorize plus size models, because it's unhealthy, and the Internet turned on her hard. So she apologized. She Tweeted, quote, "My sincere apologies to everyone I have hurt. I truly just want everyone to be healthy & happy." She also re-Tweeted someone who said, quote, "Ashley is not fat and Cheryl looks great." Get more here.
My sincere apologies to everyone I have hurt. I truly just want everyone to be healthy & happy.

— Cheryl Tiegs (@CherylTiegs) February 26, 2016
@bwilliam46 @CherylTiegs @SInow Guess that's between them. Ashley is not fat and Cheryl looks great.

— Rusti McCollum (@RUSTIMCCOLLUM) February 27, 2016
Dr. Luke Slams Kesha for Thanking Lady Gaga
Dr. Luke had a scathing response to Kesha's tweet:
thank u @ladygaga and VP @JoeBiden for bringing attention to sexual assault at the oscars. it hit very close to my heart for obvious reasons

— kesha (@KeshaRose) February 29, 2016
He thought Lady Gaga's performance had nothing to do with Kesha, and Dr. Luke's attorney reiterated their stance that she [Kesha] had never been sexually abused or drugged by Dr. Luke. Get more here.
Katt Williams Was Arrested, Again
Katt was arrested Monday after punching a pool store employee during an argument. An employee at the store said Katt came in two women and two bodyguards. He started arguing with another employee and threw a pair of goggles at him, then went behind the counter and punched him. Police say Katt was already "lying on the ground with his hands behind his back as though he was ready to go to jail" when they arrived, and won't speak without his attorney present. Katt has been arrested several times in the past few years. Get more here.
SOURCE GIFSOFTHE80S.TUMBLR.COM
---
Subscribe to Mix 1051's Blog!
Get the latest updates on music and celebrity news, contests and flyaways, and more straight to your inbox with our weekly emails.