Demi Lovato Fell Onstage While Singing "Cool For The Summer"… Again
Demi made it though 99% of her performance on Z100's iHeartRadio Jingle Ball, without falling. But at the last second, while finishing up "Cool For The Summer," she tripped over her mic stand and went down. The concert was live-streamed from Madison Square Garden, and lucky for Demi the cameras cut away right as she biffed it. However, once the camera zooms back in onto the stage poor Demi is flat on her back, kicking her arms and legs in an attempt to make the best of the embarrassing situation. She later tweeted about it, saying "Guys don't you get it by now? Only cool kids fall on stage……." If you remember, Demi fell while singing the same song back in July. Get more here.
Guys don't you get it by now? Only cool kids fall on stage……. 😎

— Demi Lovato (@ddlovato) December 12, 2015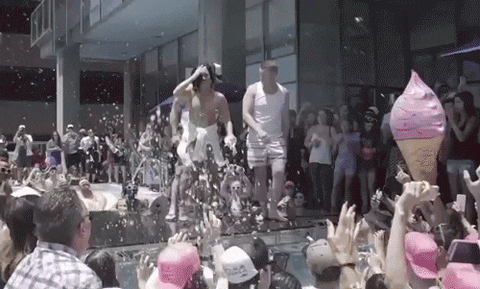 We love you Demi, never change!
Selena Gomez Says She's NOT Dating Niall Horan
The rumors have been flying for a few weeks now. Selena and Niall! They've been spotted out and about together which surely means they're dating, right? The public really wants Selena to move on from Justin and Niall seems like a perfect choice. But, hold your horses, Selena set the record straight on ET saying "Oh my god, no!" Get more here.
Adele Announced her North America Tour Dates
Today Adele announced her North American tour dates for her 2016 tour! She'll kick off in St. Paul, Minn., on July 5, and run through Nov. 15, where she'll finish in Mexico City. She'll be doing six nights at the Staples Center in L.A., and another six nights in Madison Square Garden in NYC. This will be her first U.S. tour in five years. Sadly the tour will not be making any stops in Salt Lake City, but if you're willing to travel, she'll be in Denver, CO for 2 nights July 16 and 17. Get more here.
Kris Jenner is Trying to Trademark #ProudMama
Kris Jenner has been trying to trademark #ProudMama, but jewelry company Jenny Present already owns the rights. Jenny Present produces a Proud Mama collection of items, and she's already got the name trademarked! Jenny Present says that Kris' addition of a hashtag is not enough to differentiate from the original jewelry line. The company lawyer says they will "vigorously" defend all trademark claims. Apparently Kris wants to use the phrase "for advertising purposes." Get more here.
The Campaign to Bring Back "MST3K" Made a Record $6.3 Million
The Kickstarter campaign to bring back "Mystery Science Theater 3000" was a huge success. It closed on Friday night, after making $5,764,229 from 48,270 backers. That made it the 9th biggest Kickstarter of all time, and the #1 entertainment-related campaign. It just barely edged out the $5,702,153 that was raised for the "Veronica Mars" movie. The "Reading Rainbow" one is next with $5.4 million. "MST3K" also raised $600,000 outside of Kickstarter, bringing the grand total to nearly $6.4 million. They now have enough money to make 14 episodes, including a holiday special. Production is expected to begin early next year. There's no word when or where we'll be able to watch them. Toward the end of the campaign, series creator Joel Hodgson revealed that several big names have expressed interest in appearing, including Jerry Seinfeld, Mark Hamill, Jack Black, Joel McHale, Bill Hader, and Neil Patrick Harris. Get more here.
Willard Scott Is Retiring from the "Today" Show After 35 Years
81-year-old meteorologist Willard Scott is retiring from the "Today" show after 35 years, and 65 years with NBC. They made the announcement on Friday's show. His last day will be tomorrow, and they'll be giving him a proper send-off during the broadcast. Willard was a major presence on the show from 1980 to 1996, when he handed over the reins to Al Roker. He continued to fill in for Al until 2009. Since then, he's made appearances every week to wish people a happy 100th birthday, which was a tradition of his throughout his time on the show. Smucker's sponsored the segment, and they say the birthday celebrations will continue. Get more here.
---
Subscribe to Mix 1051's Blog!
Get the latest updates on music and celebrity news, contests and flyaways, and more straight to your inbox with our weekly emails.