Conspiracy Theorist Says The CIA Funded Beyoncé's "Lemonade" to Start a Race War
There goes that Beyoncé, scaring white people again. Her "visual album" "Lemonade" is ultimately about a relationship strained by infidelity. But she also goes crazy with a baseball bat, and shows that same kind of rage that agitated Whitey during the Super Bowl. And according to conspiracy theorist (slash) professional jerk Alex Jones, we should all be afraid, white and black. Because he has figured out that "Lemonade" was funded by the CIA for the purpose of starting a race war.He said, quote, "This is just to get people to act like total morons, so they can basically be arrested, set up, and put in jail… "This is to get us all at each other's throats, when we're all Americans getting screwed over by the NSA, and foreign banks and derivatives… We're all getting our kids attacked and aborted, and shot up with vaccines and GMOs. We're all in this together… [And] the police are being federalized and geared up for what's about to happen." Get more here.
Prince's Estate to Become a Museum
Prince's $10 million, 65,000 square-foot estate in Minnesota may become a Museum. Prince had expressed interest in converting the space before his death. Yesterday his longtime bandmate/lover Sheila E told ET about the plans. "We're hoping to make Paisley what [Prince wanted] it to be. [He] was working on it being a museum, he's been gathering memorabilia and stuff from all the tours, like my drums and his motorcycle… There's pictures of him all down the halls, some you've seen before and some never [seen]… There's a mural on the wall with his hands out and on one side is all the people he was influenced by and the other side is all of us who have played with him… It's beautiful." Get more here.
Prince's Revolution Band Mates Morn
Prince's former band members were spotted headed from L.A. to Minneapolis. Wendy Melvoin and Lisa Coleman from the classic Revolution days. They said they were on their way to Minnesota to reunite with their band-mates and grieve. Prince split from The Revolution back in 1986, but he occasionally performed with Wendy and Lisa. Get more here.
https://youtu.be/_6dnzC-5iLg
Prince Didn't Have a Will
Word has it that Prince didn't have a will when he died. And he wasn't married, he didn't have kids, and his parents are dead. So it looks like his siblings would be next in line to inherit his fortune. He has a sister Tyka, along with three half-brothers and two half-sisters. Under Minnesota law, half-siblings are considered equal to full siblings in cases like this. And there were two other half-siblings who died, so if they had kids, the kids would be entitled to the same equal share their parents would've gotten. The size of Prince's estate isn't clear either. Different reports put his net worth somewhere between $150 million and $300 million, and there's a good chance that could grow another $100 million in the aftermath of his death. And obviously there's more than just money on the line. There's the control of his music catalog, and there's talk he had several thousand unreleased tracks in a secret vault. It's unclear what Prince's relationship with his half-siblings was like, but supposedly he was close with Tyka, although things were up-and-down in the past. Get more here.
The Rock Stopped Filming "Baywatch" to Meet with a Special Needs Fan
The Rock delayed shooting on the "Baywatch" movie yesterday morning after he heard there was a special needs fan who came to the set with his family to meet him. In an Instagram post, The Rock said the family showed up unannounced, and they weren't trying to get special treatment. They said they'd wait until the end of shooting if they had to. But since that would have been 12 hours, The Rock asked everyone on set to wait, so he could meet the fan, whose name is Ryan. The Rock shared the experience on Instagram:

Get more here.
Tom Brady Will Have to Serve His Four-Game Suspension After All
Tom Brady got some bad news yesterday, just when it seemed like everyone had moved past that silly 'DeflateGate' insanity. A federal appeals court has upheld and reinstated the NFL's four-game suspension, so Tom will have to accept the punishment. Unless he's able to take this nonsense to the Supreme Court, and let's be honest, there's no way that's happening. But Tom saw this coming. Last month, he re-worked his contract with the Patriots. It's complicated, but basically his salary for the upcoming year was reduced from $9 million to $1 million. And in exchange, he got a $28 million signing bonus. That's no coincidence. Under the old deal, a four-game suspension would mean he'd have to forfeit $2.1 million. With the new terms, he's only losing $235,000. The league is only able to deduct from a player's salary, not any bonuses. Brady hasn't commented, but the NFL Players' Association said they were "disappointed" in the decision, and that they'd "review" it, whatever that means. By the way, Tom's buddy Donald Trump has heard about this, and he wants everybody to, quote, "leave Tom Brady alone."
98 Degrees is Touring with Dream, O-Town, and Ryan Cabrera
Is it too early to have nostalgia for the late '90s and early 2000s? Too bad. You're getting a big, fat slab of it this summer. 98 DEGREES is touring with O-Town, Ryan Cabrera and the girl group Dream. They're calling it the My2k Tour, and they're hitting 35 cities between July 8th and August 28th., and yes, they're coming to Salt Lake City! Tickets go on sale Friday. Get more here.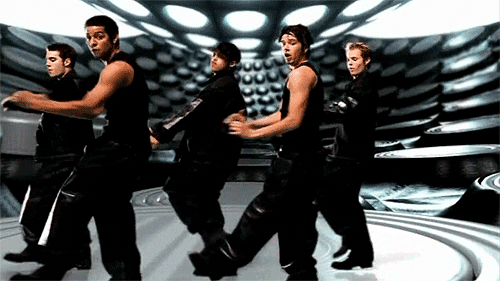 SOURCE HBO.COM
SOURCE PEREZHILTON.TUMBLR.COM